Linn stops making CD players
Linn Products, famed both for its Linn Sondek LP12 turntable as well as the state-of-the-art CD player, the CD12, has become the first major hi-fi manufacturer to pull out of the CD player market.
It has announced that it will stop making CD players at the end of this year.
The famed Linn Sondek LP12 turntable
Gilad Tiefenbrun, managing director of Linn Products, told BBC news: "Our customers have fast recognised the limitations of CD players and in the age of home networking, people now want better control of their music and the ability to enjoy it in any room of their home.
"CD players no longer belong in the specialist domain."
Compact discs began commercial music sales in 1982, replacing the cassette tape as well as vinyl records. The shift from compact discs to digital downloading is again changing the music market.
Linn's CD12 was among the best CD players in the market
In its website http://news.linn.co.uk/news/2009/11/digital-streaming-marks-the-end-of-an-era-for-linn-cd-players.php#more, Linn said: "After 20 years designing and manufacturing world-class CD players, Linn will stop production of CD players at the end of 2009.
"At Linn we have always been wholly committed to making systems that push the boundaries and deliver the highest possible audio performance. When we launched our first digital stream player, the flagship Klimax DS, we did so only once we had proven comprehensively that it outperformed the iconic Sondek CD12, our former reference digital source, in every way.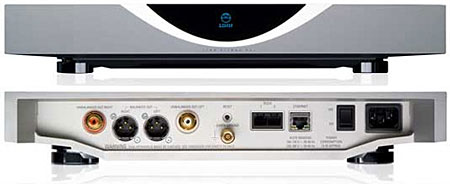 Linn's Klimax DS digital streaming player
"This development saw Linn DS far exceed what was possible with traditional CD playing technology, both in terms of its audio performance and the convenience. Linn DS is now firmly established as the future of music and the only way to get the very best from your CD collection and enjoy downloads of the highest possible quality.
"Today, we have a wide range of Linn DS players designed to meet the needs of every music lover, from Klimax DS - the pinnacle of audio perfection - to the recently launched no-compromise one-box Majik DS-I."
Sales of computer audio players outperformed that of CD players in 2009. It was also this year that music downloads set a new record.
According to BBC News,BPI, representing the British recorded music industry, announced last month that 2009 had already broken last year's record number of legally downloaded single and individual track sales. Of 117 million sales, nearly 99% were digital downloads.
But there is a different market for album sales. CD sales continue to dominate, but their share of the market is sliding.
In 2006, there were 154 million album sales, of which CDs accounted for 151 million, and digital for 2.7 million.
In 2007, with 138 million sales, 131 million were CDs and 6.2 million were digital.
In 2008, there were 137 million album sales, with 123 million CDs and 10.3 million digital downloads. Vinyl records, cassettes and other formats accounted for around 300,000.